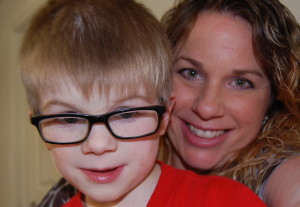 I've always had a very difficult time asking for help.  As I get older, and wiser, I've come to the realization that sometimes you NEED to ask for help and it's hard not to let pride get in the way.
I've been blessed with two wonderful children that I would literally give my life for…..I finally realize how much my parents truly love me.  Growing up you witness the sacrifices your parents make for you but I don't feel like you can truly appreciate them until you have children of your own.
I also realize the sacrifices my husband makes on a daily basis as he serves in our military.  He has been deployed three different times, for a year each time.  Two of those years were spent in Afghanistan and the other year was spent in Iraq.  That is three entire years of Brian's life that he has missed!  He knew (and we knew before we married) the sacrifices he (we) was (were) making in order for him to have his dream job as a pilot.  With those sacrifices came incredible insurance coverage from Tricare for our family!  We truly have been blessed with the way Tricare and the military have taken care of our family!
Unfortunately, we are facing the devastating possibility of losing $36,000 of ABA coverage that Tricare and the ECHO program have provided to Brian for the last two years.  This money pays for his ABA therapy at The Riley Center where he has been showing ABSOLUTELY INCREDIBLE progress this past year.
ABA therapy is the only evidence based, scientifically proven therapy for autistic children.  IT WORKS!  ABA therapy is giving Bri the BEST chance of having the most successful future and I'm going to do every possible thing in my power to make sure he can get it throughout his entire education.  He is about to be 7 years old and so that leaves many years ahead of us.
Bri, Molly and I are faced with another year of separation from Morgan while he is attending the Naval Experimental Test Pilot course in Maryland.  We should be there with him but they don't have the services for Bri, so the Army has let us stay behind in Huntsville.  Even though we're going through another year apart as a family, we are incredibly blessed to be in Huntsville, AL where The Riley Center is located.
I've included a PayPal donation button on the right of my website.  Please consider donating towards Bri's ABA therapy.  My vision for this website (and Life of Bri's Facebook community page) is HUGE!  I don't just want to raise money for Bri but for other children on the spectrum as well. **(I will add the donate button soon…..I'm staying up late every night trying to figure out how to do this website, add widgets, link pages, etc…I'm new to all of this so it's a slow process.)**
The Riley Center has a donate button on their website if you would like to donate directly to them.
I once had someone tell me not to lose hope because I could always institutionalize Bri.  Not exactly the words a parent wants to hear!!!  Anger, hatred, defeat, hopelessness, sadness, and loneliness are words that don't even begin to describe my feelings when hearing those words spoken out loud!
Since that day, I've worked even harder to get the help Bri needed to have the best life possible!
Since starting The Riley Center, through the use of ABA therapy, Proloquo2Go (a communication app on his iPad), and dedicated therapists/teachers/staff, Bri has shown us that he has been retaining information his entire life!!  He recognizes so many sight words, he has learned how to spell many words as well, he's doing addition in math, and I could go on and on!  My son is nonverbal but is showing all of us how smart he really is without speaking!
Many autistic individuals are trapped in their bodies with no way of communicating their ideas and thoughts to the world.  Lets help Bri and others find a way out so we can truly see the incredible, unique and marvelous individuals they truly are! ♥