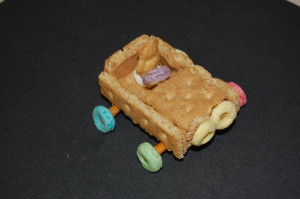 I have so many happy memories of my childhood.  One that I lovingly remember is opening my brown lunch bag and randomly finding a handwritten note from my mom.  The notes always put a smile on my face.  It's a tradition that I wanted my kids to share as well, so I included a note written on a napkin the very first day Bri started attending preschool.  I've included one every day since then.  Some would say I'm silly or foolish for writing a note to my autistic son, but it's been a way, I guess, of trying to cling onto some sort of normalcy in our lives.
Along with his note, I sometimes include a fun homemade snack.  When I have time, I try to come up with some of my own creations.  I'll have to warn you that some of them don't turn out like I envision. Ha!  While being a creative outlet for me, I hope that Brian enjoys them and I'm filling his mind with some loving memories that he'll cherish for the rest of his life.
Here's a little graham cracker car I made for my little man, complete with a teddy graham bear driver.