There are moments that will be seared into my mind forever….moments that take my breath away and leave me in awe and amazement of my son.  The moments he connects with me and lets me into his world are priceless, and I would move mountains for more of them.  We both let our guard down and are one in the moment, and the rest of the world disappears.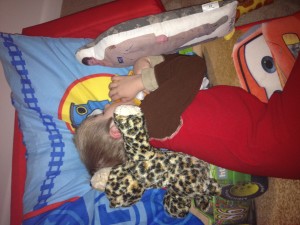 I've learned to try and stop what I'm doing if at all possible to just "be" in the moment with Bri.  One of the most meaningful times in my entire life occurred when Bri gathered all of his lovies and crawled into bed with me.  If you haven't seen a collection before, he has quite a crowd in bed with him at night.  He went through a period of time, and still occasionally does, where he'll wake up in the morning and bring everything to our bed for some morning cuddles.  I savor these moments and so does my husband.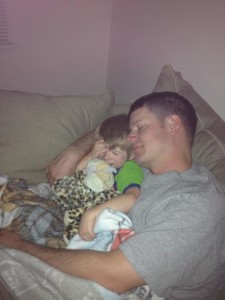 So this one particular morning Morgan was still sleeping, and I heared Bri open his door and come wandering down the hall.  He came to the side of our bed and waited for me to lift him up and put him between me and his daddy.  As he snuggles up between us he'll sometimes go back to sleep, but for the most part, he insists that we rub his back, feet, arms or legs.  Bri seeks touch and it's impossible to relay how thankful I am for that!  Other autistic individuals have an aversion to being touched or are sensory defensive, and so I know how blessed we are that Brian is a sensory seeker.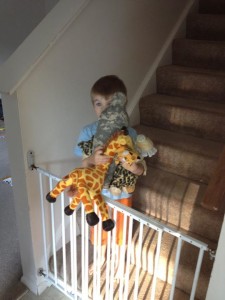 If you want to read more about sensory integration, Cindy Hatch-Rasmussen has written a very useful article that you can find here on the Autism Research Institute's website.  There is also an extremely informative video from Dr. Steve Edelson, the Director of Autism Research Institute and Patricia Wilbarger M.Ed., FAOTA, OTR who developed The Wilbarger Brushing Protocol, which is now called The Wilbarger Deep Pressure and Proprioceptive Technique (DPPT) & Oral Tactile Technique (OTT).  To read more about these techniques, click here.
After Bri crawled between us that morning, he laid there for a minute staring at the ceiling and then turned his head on the pillow towards me.  He looked directly into my eyes as if he were peering into my soul.  Lack of eye contact is a problem for many on the spectrum, so when Bri makes eye contact, you stop everything and savor the moment and wish that it would last a lifetime.  He reached out and started touching my face, never once breaking our eye contact.  I froze and just stared back into his beautiful eyes, not wanting the moment to end.  It was absolutely one of the most magical moments of my life.  This lasted for only a few minutes, but the memory will last a lifetime. ♥