A few months ago I went through a terrifying experience that I hope I never have to go through again.  Bri wandered off and let himself into our neighbor's front door and into her son's bedroom.  Before we realized where he was, we were frantically searching in our house and outside while calling out to him.  I can't even begin to describe the horrific thoughts and images filling my mind as I searched for my son!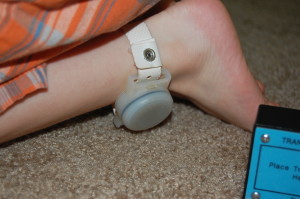 Before anyone starts berating me about not keeping a careful eye on my son, someone else was watching him when he wandered away.  I'm not posting this information to lay blame on someone else because this happened in a split second and it could happen to anyone at anytime!
As with many children on the spectrum, our Bri will bolt at any given moment.  In addition to that, many of our children are drawn to water, including my Bri.  Elopement + water = a very deadly situation!  Elopement is a problem that keeps me up at night, causes us to put upper locks on all of our doors, causes us to avoid most public areas and generally affects almost every decision we make when leaving our home.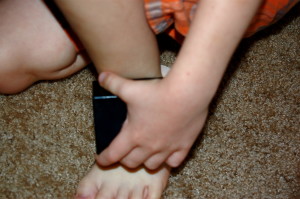 After Bri wandered off in May, I realized we had to take further measures to safeguard our son.  When we were living in New York, another mom had a tracking device put on her child and she told me it was a program called, Project Lifesaver.  I considered it but put it to the back of my mind at the time.  This scary situation brought it back to the forefront of my mind.
I found out that Project Lifesaver was available through the Madison County Sheriff's Department.  I immediately called and set up an appointment for them to come out and sign Bri up for their program.  The Pilot Club of Huntsville is partnering up with them to provide this service FREE OF CHARGE!!!!  You heard me right, Project Lifesaver is FREE for our loved ones that require this type of service (at least in the Huntsville area).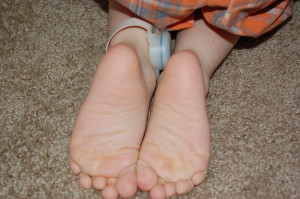 While it's not a preventative measure to keep your loved one from wandering, it is a tracking device so that your loved one can be found as quickly as possible.  There are so many terrible stories in the news every week of individuals on the spectrum wandering off and many of those stories end in death.  I pray that Project Lifesaver, and the sharing of this post, help others so we hear of happy stories more often regarding loved ones being returned to their families.
Click here to link up to Project Lifesaver in Madison County and click here to visit the website for The Pilot Club of Huntsville.
The Pilot Club of Huntsville has a volunteer that comes to our home every 30 days or so to replace the battery in Brian's tracking device.  Thank you, Tina!!!
I know there will be parents out there that think there is NO WAY that their child will wear a tracking device around their ankle (they can also put the device on an individual's wrist).  Guess what?!?  I was one of those parents!  Bri won't even wear a band-aid!  Children are resilient and will learn to adjust.  Some may take longer than others, but I can guarantee this is one battle that's worth fighting.  It's a matter of life and death!
I've included some pictures in this post so you can see the tracking device on Bri.  Also, the box that he's holding to his ankle is the way you check daily to make sure the battery is working.  I explain to Bri that it's helping keep him safe and it took him less than a day to adjust.  He will even hold the box up to it now to help me check the battery.
Don't let that little guy fool you though!  He'd cut it off in a second if I gave him a pair of scissors!
Another reason to consider a tracking device for us was because Bri is nonverbal.  If searchers were looking for him, he wouldn't be able to call out to notify them of his location.  Something else to note is that Bri didn't even realize what he had done.  He was happily playing while I was crying tears of joy and relief.
Please share this so we can keep our loved ones safe!  Look for Project Lifesaver in your area.  Click here to visit Project Lifesaver International.