I'm not a rocket scientist but my hometown of Huntsville, Alabama has a plethora of them……This is for all the brilliant rocket scientists out there!
Materials: Ginormous marshmallows for your propulsion system and payload system, regular marshmallows for the fins, mini-marshmallows for the guidance system, skewers and toothpicks for structural support, chocolate and sprinkles for rocket identification and a decorating bag for the placement of your rocket identifiers.
Start by placing 5 ginormous marshmallows on two long skewers.
I found my ginormous marshmallows at our commissary on post and the brand is "Campfire" and they're called "Giant Roasters."
Next take 3 skewers and break them off around 7 inches or so.  Load them up with 3 regular sized marshmallows for your 3 fins while leaving enough skewer at the top to stick into your propulsion system.
You may have to play around with your fins a bit as you start assembling your rocket.  The propulsion system is quite heavy, what with all the fuel, oxidizers, pumps and nozzles in there, so make sure you make a tripod like assembly.
Once that step is complete, carefully lay your rocket on it's side.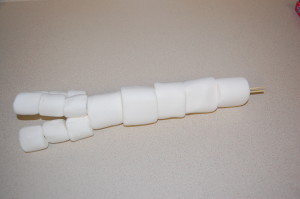 Place chocolate of the color of your choosing into your decorating bag and lay it in a microwave safe bowl.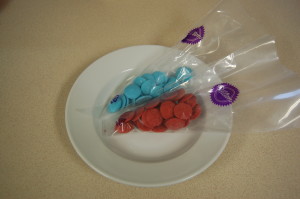 I used Wilton chocolate and the directions for microwaving it are on the back of the bag.  Once you have the chocolate melted, carefully remove the bowl from the microwave.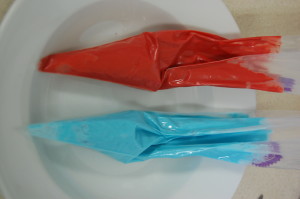 If you don't have decorating bags, you can just as easily melt the chocolate in a bowl or double broiler and place it in a zip-lock bag.  It's just much easier and less of a mess to use the decorator bags.
Snip a TINY hole in the bottom of the bag.  Now you're ready to design your rocket.
While the chocolate is drying, start placing mini-marshmallows on toothpicks for your guidance system.
Also, cut one ginormous marshmallow with two angles as shown.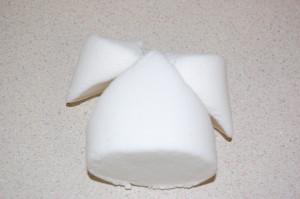 Carefully lift your rocket up and put the guidance system in place.  Put some melted chocolate on the bottom of your angled cut ginormous marshmallow and place a toothpick in it.
Place your payload system on the top of the guidance system and push down everything until it feels secure.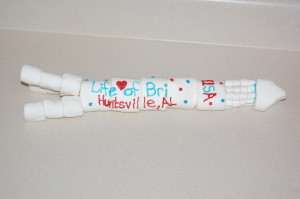 The rocket scientists out there will have to let me know how I did.  Thanks to NASA for helping out with this image.
I hope you enjoy it as much as Bri and Molly did!  I'd love to see pictures of your rockets!