My sweet daughter, Molly, is almost 2 1/2 years old.  There are two things she loves more than anything (besides her family of course), the color blue and dogs.  I do have a theory about the dogs.  I gave her a pink dog as one of her first lovies after she was born.  Incidentally, my sister had a horse and I had a monkey when we were growing up, and they turned out to be our favorite animals too.  Bri has had a lion since he was born, thanks to Anja, and he has been in love with lions ever since.  He does have a new love for giraffe's as well.  ♥
Items Needed for Dog Sandwich
3 slices of bread, peanut butter and jelly, one pretzel stick, mini chocolate chips, heart cookie cutters and a knife.
First you need to remove the outside crust from two of your bread slices.  Smear peanut butter and jelly on both slices of bread.  Roll up both slices individually.
Once you have both slices rolled up, cut up one roll into 4 pieces.  One larger one for the dog head and two smaller ones for the legs.  You'll have one piece left over that doesn't need to be used.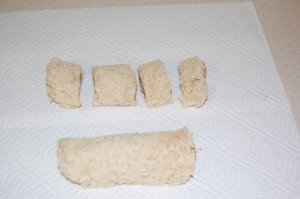 You can then attach the feet to the bottom and head to the top using peanut butter.
Take your third slice of bread and use a medium size heart cookie cutter to cut out the ears.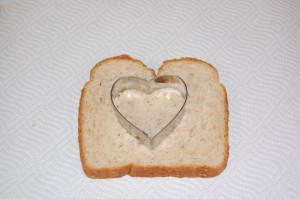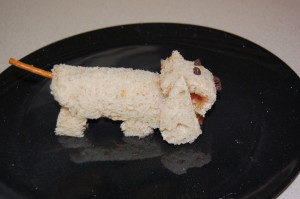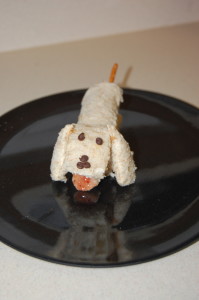 My nose may need a little work. Ha!
It's so much fun watching their expressions! ♥