Dear Daddy,
We miss you so much and talk about you all the time.  We know you're in Maryland at a special school learning extra cool things.  We talk about how you went bye-bye for a while but that you still love us so much!
We told mommy to take some pictures of us this weekend so you could see what we did.  Will you take some pictures and send them to us?
Daddy – I don't know if you've ever heard of "Daniel Tiger's Neighborhood" before?  It's my favorite show besides "Barney" right now.  Thanks for my iPad!  Mommy says it's her iPad too, but I think she's crazy!  We all know you bought this iPad just for me!!!  Look at the pretty pink iPad case that Papa and NeNe bought for me.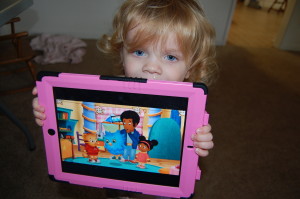 Maybe you should watch a few episodes of "Barney" so you can learn the "I Love You" song.  Mommy and I sing it all the time and I love giving hugs and kisses.  Do you see my runny nose, daddy?!?  I've been sick for over a week now and I can't stop coughing.  Mommy really hopes I feel better soon.
Hi daddy, it's Bri!  I sleep with my "daddy doll" every night.  Sorry I don't always feel like talking when you call…..it's doesn't mean that I don't miss you like crazy!  I found a photo album in my room the other day that Mommy made me.  I was flipping through it and took out a picture of you holding me on my last birthday.  I was blowing out candles on my lego cake.  Mommy walked into my room and watched me as I stared at it for a long time.  Molly talks nonstop and it's hard to even try to say a word when she's in the same room.  I have called out for you several times since you left….it's usually when I'm feeling bad.  One day I said your name twice and I saw a tear run down mommy's face.  I'm not sure why she was crying because I saw a smile on her face.  I miss you so much!
Mommy took out some craft supplies and Molly and I decorated some paper grocery bags yesterday.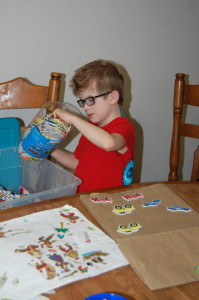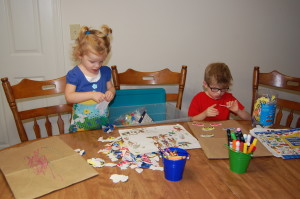 Then mommy made me put the bag on and I didn't like it ONE BIT!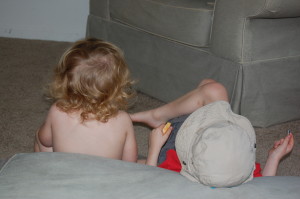 Mommy took us to a playground today and we had so much fun!
Study hard!  Stay safe!  We love and miss you!
Love,
Brian and Molly ♥