Bri wants to have his very own job on our blog, so he's going to start reviewing apps for you.
His first app review is:
Cute Food – Cooking App For Kids by Jump App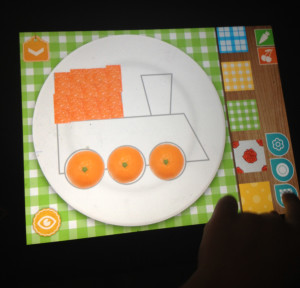 This app is so cool!  I love fruit, vegetables and especially TRAINS!!!  How do you like my orange train?  I can choose from 20 different pictures and a TON of fruit and vegetables to put on my plate.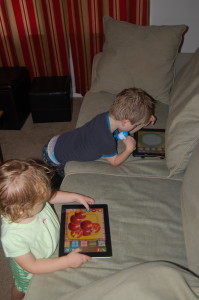 Molly liked it too! She was making an apple dish.  Mommy and daddy had to buy Molly an iPad because we kept fighting over mine.  I don't know who she thinks she is!?!  I didn't get my iPad until I was several years older.  Younger siblings get everything!!!  BOO!!  Negative points for daddy and mommy!  Of course she isn't crying like a baby asking for mine and pulling it out of my hands, so that's good…..but don't tell mommy and daddy I said that.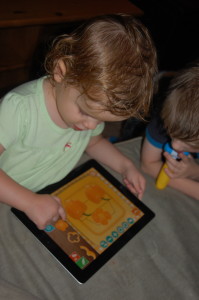 She's such a showoff and always wants all the attention.  Is that a car?!? Neat!  I like your use of bell peppers for wheels….oh wait….back to my iPad.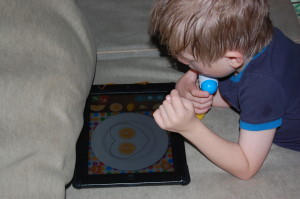 I had this wonderful aide in preschool.  She taught me that, "the heart says I love you!"  Ms. Stephanie was her name and she worked with me every single day.  I was really special because she was assigned to me all day.  Can you believe that?!?  She was a very special lady and helped me until I graduated preschool.  My teacher was Mrs. Kathy and mommy really liked the way she taught.  Mrs. Kathy was very organized and used picture schedules in her classroom so I knew my daily schedule and what was coming next.  She started teaching me about transitioning from one activity to the next (something I struggle with at times) and was very patient when I had a hard time.  I really miss them!
Ok…..so back to the heart.   I was making two eyes and I added a banana mouth shortly after this.  Mommy loves smiley faces and she's always drawing them everywhere.
See the polka dotted place mat under my plate?  You can change that to different place mats and you can change the plates too.  You can also start with a blank plate and create your own picture without a template.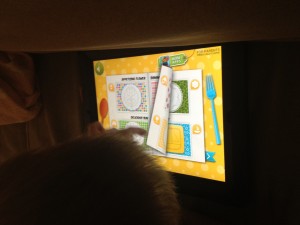 This is a really cool feature that I liked.  You can either touch the arrow or flip the page (like a book) to go to the next page.  I LOVE books!!  Mommy lets me use my iPad to pick what books I want to read at night. .
Since my mommy got this app for me a few days ago, I have played with it a lot!  I have a very creative imagination and so this app lets me explore my creative side.
I give it two thumbs up!!
♥,
Bri