Bri is out of school this week between summer school and the start of the 2013-2014 school year.  I decided to put Molly in childcare a few days this week so I can spend some much needed mommy & Bri time together.  Molly gets me all to herself while Bri is at school, so I wanted to have some special time with him as well.
We dropped Molly off at childcare and headed to his second swimming lesson with Susan.  He was very hesitant today and it took him awhile to become acclimated and brave enough to head into the water.  That's the beauty of private lessons though, Susan was cheering him on the entire time and he wasn't pressured to get in the water before he was ready.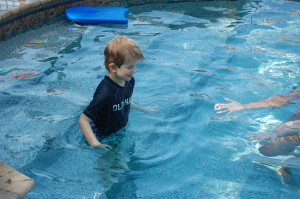 She is very open to letting Bri get comfortable in his surroundings and is patient as Bri rearranges the outdoor chairs, checks the filters, feels the water jets, etc.  She has these diving fish that he LOVES and she uses them as positive reinforcers to lure him down the steps.
Susan is slowly building his trust and he timidly stepped off the 4th step several times and started kicking to see if he could keep his head above the water.  He knows to close his eyes and blow out of this nose, so he's doing really well.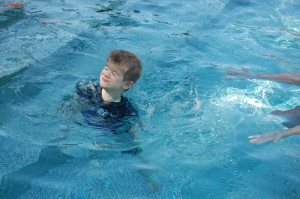 He's telling us when he's done and ready to go, and I always think it's really good to respect that.  He rarely says any words spontaneously with me, so when he says "go" or says "done" while signing it, we say our goodbyes.  Tomorrow we'll be working with Ashley, Susan's daughter, so he'll have swimming for a third time this week.  I think this will be a long process, but he really loves the water so we'll be patient as he learns at his own pace.  Susan and Ashley are  such positive and upbeat people, that Bri really likes both of them.
After we pulled away from Susan's house, I asked Bri if he'd like to go to the train depot with me?  He responded with a very loud "Yeah!"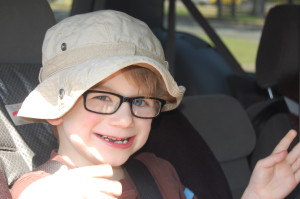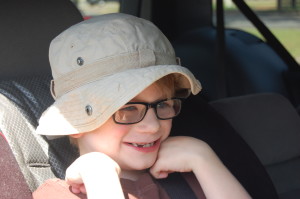 He was SO HAPPY!!!
We rode the trolley which is by far his favorite part.  When it stopped, he just sat there and said "more more!!!"  The driver had already headed off so I had to explain we'd come back another day to ride it again.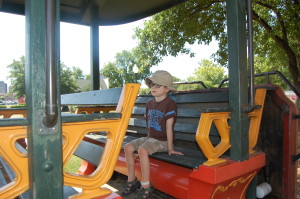 After returning home, I had to finish off our day with a train treat.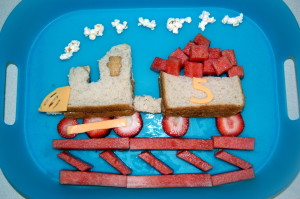 I had such a wonderful day with Bri, and it made my heart so happy to see him enjoy it just as much too!
If you'd like to visit The EarlyWorks Family of Museums website, click here.  We ended up buying a year pass to the museums because the kids love The Train Depot so much.