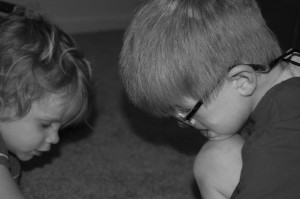 Some people seemed shocked, while others are silent.  Some try to give helpful advice and a small percentage criticize.  Luckily for me, I haven't encountered the critical observer too often…..well at least not to my face.
Bri will be 7 at the end of August and he isn't potty trained yet.  I've tried a number of things, but the fact of the matter is that he just hasn't been ready or willing.  I'm sure there will be many potty training posts in the future, but today I wanted to share some exciting news!  Bri peed on the potty 4 times last week with a #2 in there (Can I talk about POOP on here?!?) Ha!  It's my blog, so I'm giving myself permission.
This morning he peed on the potty before school, peed on the potty at school and then peed and pooped on the potty after he got home!!!  HUGE DAY for my little Bri!  We're still not sure if he's making a connection or even realizes the sensation before he has to go, but today was definitely a successful day in my book!
After school as Brian was sitting on the potty, Molly came into the bathroom and peed on her little potty.  I haven't really been pushing her too much to potty train because she's only been 2 for four months now.  She has some successes, but now will always tell me when she needs changing.
Let me just tell you that it was a proud mommy moment as I sat between my two sweet kids using the potty!  ♥