I know speaking of potty training your special needs child is often taboo, but I find it cause for CELEBRATION!  I hope Bri reads this blog when he is older and realizes how hard we both worked in order to get to the place we are today, just 2 weeks shy of his 9th birthday.  I know we're going to have bumps in the road, but Bri is now on his 3rd straight day of no accidents!!!  Already today he has peed on the potty 3 times and we got him to the potty for a 4th time to POOP in it!!!!  WOOHOO!!!!
You can imagine how much potty training advice I've gotten over the years since I've been changing diapers and pull-ups for almost 9 years.  I've tried many of the suggestions but we were never successful because HE WASN'T READY.  If you are a parent of a special needs child and are going through this same thing, be patient.  Be patient and understanding with your child because this is a huge obstacle they have to overcome.  In Brian's case, he has been constipated since he was born and we've struggled with it his entire life.  On top of that, he went through a very challenging time with an injury after a colonoscopy and bled off and on for over 6 months with inflammation.  He still hasn't completely healed from all of that.
As I've been watching Bri over the last three days be so calm and successful, it has made me think of all of the unsuccessful attempts in the past and the massive hurdles he's overcome.  I had to go back and look at the very first time I introduced potty training to him.  It was February 9, 2009 and Bri was almost 2 1/2 years old.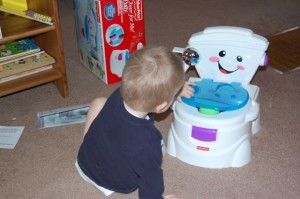 Adorable pictures, but he had absolutely no interest about using it.
Be patient.
I didn't push Bri very hard these past 9 years because he was always dealing with something.  One of the biggest things was having a daddy that was deployed and off training for most of his life.  The pictures of his potty were 6 months after having eye surgery before his daddy left for a deployment.
His daddy was able to come back for 2 weeks of R&R during his 2nd deployment for Bri's lymphatic malformation removal surgery when Bri was a little older than 2 1/2 years.
After strabismus surgery on his eyes and removal of the lymphatic malformation from his face, there was continued genetic testing, a tonsillectomy and partial adenoidectomy, sleep studies, allergy testing, CTs, MRIs, renal ultrasounds, echocardiograms, xrays, EKGs, EEGs, countless doctors appointments and rechecks, speech, OT, PT, ABA, etc.
Bri has been through the ringer, yet through it all he has been an incredibly strong little man that inspires  me daily.  I can't imagine being on this life journey without him.  The littlest things bring him so much joy and he helps me find the beauty in everything.
Special needs parents – Our children often have so many comorbid conditions that make certain things like potty training that much harder.  On top of dealing with insurance companies, filling out mounds and mounds of paperwork, making countless doctor and therapy appointments, making sure you get to all of them on time, sleepless nights when your child can't seem to turn off their mind, grocery shopping, cooking, cleaning, and the list goes on and on……..Often times you are pressured by family, friends and society to work harder on potty training.  Many people will tell you that if you force them to sit on the potty, they will eventually go.  Don't listen to them!!  On several occasions Bri and I stayed in the bathroom for 2 days at a time.  ALL_DAY_LONG!  We ate in the bathroom, played in the bathroom and worked on potty training the entire time except when it was time to sleep.  Yes, this works for some children, but it didn't work for Brian.
You know your child better than anyone else in this world.  For the past several years I had talked to Bri's team about potty training him.  Every time I attempted it, I realized he wasn't ready.  Then he went through so much stuff these past few years and was tested for so many things including Hirschsprung's Disease, which thankfully he didn't have.  Whenever I tried to get him to sit on the potty, he would become extremely aggressive.  After talking to his psychiatrist, we decided it wasn't worth it to turn potty training into a negative experience.  We both agreed he still wasn't ready.  She advised me to try every few weeks to see if he was more accepting of it and to make sure it stayed a positive experience with lots of positive reinforcement.  Bri's team at school agreed with this plan, and have been extremely supportive over the years.
I've tried countless times over the years and I respected Bri when he let me know he wasn't ready.  Do the same for your child.  I've heard so many specialists tell me that you can't force a child to become potty trained and it's futile trying to push them.  They will learn when they are ready.  I say this, but I know there is an exception for individuals that are never able to control their bodily fluids.  At one time, we were thinking that might be the case for Brian.
As I'm starting to see the light at the end of a 9 year long tunnel, I thought I needed to reflect back on everything we have been through and some of the challenges Bri has faced.  I know we probably have some time before Bri is 100% potty trained, but he has made such incredible progress these last 3 days that I had to blog about his success so we can reflect on this time when he is older.
Bri – I want you to know that you have persevered through so many tough times but always came out a victor.  This time is no different.  You are an incredible little boy and I'm honored and privileged to call you my son.  As we begin our 3rd week of homeschooling this year, my heart is bursting with pride at how much progress you've made in less than 3 weeks!  I cherish the time we have together.  I love how you reach out and grab by hand to put it on your leg or arm just so you know I'm right beside you, and when you crawl in my lap for cuddles my heart melts.  Our extra cuddles and time together is priceless!  Thank you for making me a better person.  I love you! ♥
adjflkajdf;lajdf;ljkadf